Meten
Meten Academy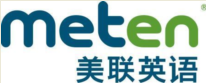 Meten Academy / Greenville High School "2 Plus 1" Agreement
Greenville High School is Globally Engaged
The June Meeting of the Board of School Directors for the Greenville Area School District included several common topics for the first meeting of the summer; the hiring of new staff members, the approval of the 2015-16 budget; and several textbook adoptions. However, according to Superintendent Mark Ferrara, the GASD Board has taken a "bold step in the direction of global engagement and academic presence in China" by approving a five-year agreement which outlined an innovative curriculum project.
The agreement and vision, born out of interactions with the American Scholar Group, an international education outreach organization headquartered in Greenville, places Greenville High School in a unique position that is the first of its kind in this area, and perhaps the state, by partnering with Meten Academy, China. Meten, an English Language Learning Center, is present in 20 cities in China, with nearly 70 centers, and serves approximately 30,000 students annually. With a traditional foothold as an English as a Second Language service provider, Meten has pursued GASD in search of a "sister school" relationship to expand into authentic coursework in American subject areas under classically trained English instructors.
The delivery of the program is unique. The American Scholar Group, in conjunction with the Greenville Area School District, will hire several certified American teachers in the core subject areas to deliver Greenville High School curriculum at the premier Meten Center in Chengdu, China. In this program, students will study year-round for two years (6 semesters), learning Greenville High School curriculum from certified American instructors. Those students who excel in their course of study after two years, taking summative examinations and final assessments just like they were a student at GHS, will have the opportunity to study their senior year at Greenville High School.
Donald Si, the project leader for Meten who was formerly an English professor in China, stated that the Meten administration was immediately attracted to Greenville High School. "GHS stands apart from other schools we have visited...from first class faculty and facilities to great students, Greenville High School provides a level of comfort that just clicks." Si also points out that Greenville is centrally located to many wonderful institutions of higher learning, which partnered with the American Scholar Group, will hopefully position the Chinese students for success well beyond the secondary level.
The Meten Academy / Greenville High School "2 Plus 1" Program provides Chinese students driven to study in the United States with a unique opportunity. As GHS Principal Brian Tokar maintains, "It is very easy to take for granted many of the educational opportunities that American students enjoy. As our professional relationship continues to evolve with Meten, it has become very clear that the opportunity exists to develop a mutually beneficial partnership that will simultaneously expose Chinese students to facets of the American education system, while students at GHS benefit from the introduction of an international perspective in our classrooms." Tokar's sentiments are forged in the positive experience that GHS realized this past school hosting international students from China, Vietnam, Poland, and Korea through the American Scholar Group. According the GHS Social Studies Chairman David Fisher, the ASG students' perspectives were extremely valuable during discussions in his World History II course.
This curricular initiative has numerous positive impacts on the Greenville Area School District. First, several teams of GHS teachers are working this summer to create a formalized curriculum and assessment framework for the GHS courses represented in China through Meten. According to one team member, GHS English teacher Martha Hubbard, this curriculum and assessment experience "has really forced me to review the material that I have been teaching and honing for years and truly looking at it in a larger framework...I had already been working with previously. I often get so busy over the year I don't get the opportunity to really give my units the scrutiny like I am doing right now." Principal Mark Hogue, who serves as the project leader for GHS, indicates that these curriculum initiatives will build curricular capacity through a teaming approach to course refinement, while providing GHS faculty with invaluable opportunities to enter into a new era of collaboration.
In addition to the curricular components of this agreement, professional development for Meten staff will serve an integral role. Each year, GHS and Meten staff will travel abroad to engage in two weeks of training, where the GHS leadership team, including Superintendent Ferrara, along with Principals Hogue and Tokar, will serve as the primary presenters and GASD delegates. The Trojan team will provide training on topics such as the American Education System, learning hierarchies, constructivism, instructional design, assessment practices, and progress monitoring. GASD Board President Dennis Webber indicated that he is excited for the implementation of this unique partnership and views the Meten / GASD "2 Plus 1" program as a great opportunity to favorably position the District.